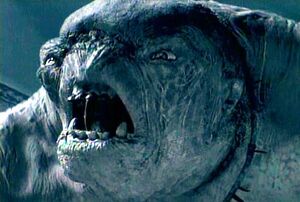 A
troll
is a fearsome member of a mythical anthropomorph race from Scandinavia. Their role ranges from fiendish giants – similar to the ogres of England – to a devious, dwarf-like folk of the wilderness, living underground in hills, caves or mounds.
Opinion varied as to whether or not the trolls were thoroughly bad or not, but often they treated people as they were treated. Trolls could cause great harm if vindictive or playful, though, and regardless of other things they were always heathen. Trolls were also great thieves, and liked to steal from the food that the farmers had stored. They could enter the homes invisibly during feasts and eat from the plates so that there was not enough food, or spoil the making of beer and bread so that it failed or did not end up plentiful enough.
The trolls sometimes abducted people to live as slaves or at least prisoners among them. These poor souls were known as bergtagna ("those taken to/by the mountain"), which also is the Scandinavian word for having been spirited away. To be bergtagen does not only refer to the disappearance of the person, but also that upon returning, he or she has been struck with insanity or apathy caused by the trolls. Anyone could be taken by the trolls, even cattle, but at the greatest risk were women who had given birth but not yet been taken back to the church.
Powers/Weaknesses
Edit
More often than not, though, the trolls kept themselves invisible, and then they could travel on the winds, such as the wind-troll Ysätters-Kajsa, or sneak into human homes. Sometimes you could only hear them speak, shout and make noise, or the sound of their cattle. Similarly, if you were out in the forest and smelled food cooking, you knew you were near a troll dwelling. The trolls were also great shapeshifters, taking shapes of objects like fallen logs or animals like cats and dogs. A fairly frequent notion is that the trolls liked to appear as rolling balls of yarn.
To ward off the trolls you could always trust in Christianity: Church bells, a cross or even words like "Jesus" or "Christ" would work against them. Like other Scandinavian folklore creatures they also feared steel. Apart from that they were hunted by Thor, one of the last remnants of the old Norse mythology, who threw Mjolnir, his hammer, causing lightning bolts to kill them. Though Mjolnir was supposed to return to Thor after throwing, these hammers could later be found in the earth (actually Stone Age axes) and be used as protective talismans.
In Scandinavian fairy tales trolls sometimes turn to stone if exposed to sunlight. Some have attributed this aspect of the myth with pareidolia found in naturally eroded rock outcrops.
Like many other species in Scandinavian folklore, they were said to reside in underground complexes, accessible from underneath large boulders in the forests or in the mountains. These boulders could be raised upon pillars of gold.
In some Norwegian accounts, such as the middle age ballade Åsmund Frægdegjevar, the trolls live in a far northern land called Trollebotten – the concept and location of which seems to coincide with the Old Norse Jötunheimr.
There are many places in Scandinavia that are named after trolls, such as the Sweden|Swedish town Trollhättan (Troll's bonnet) and the legendary mountain Trollkyrka (Troll church).
Ad blocker interference detected!
Wikia is a free-to-use site that makes money from advertising. We have a modified experience for viewers using ad blockers

Wikia is not accessible if you've made further modifications. Remove the custom ad blocker rule(s) and the page will load as expected.