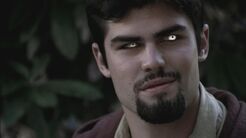 Skin-Changers
are a race of shape-shifting supernatural creatures who can take the form of anyone and possibly anything else.
Powers and Abilities
Edit
Weaknesses
Edit
Silver - Skin-Changers can be killed by a silver bullet or silver blade to the heart. Lesser hits will hurt them, possibly driving them away from the fight. Silver-caused cuts reacts with them, similar to how iron reacts with demons.
Angel Blade - Stabbing a Skin-Changer with an angel blade will result in death.
Decapitation - The act of removing a Skin-Changers head will result in death.
Heart Extraction - The act of removing a Skin-Changers heart will result in death.
Ad blocker interference detected!
Wikia is a free-to-use site that makes money from advertising. We have a modified experience for viewers using ad blockers

Wikia is not accessible if you've made further modifications. Remove the custom ad blocker rule(s) and the page will load as expected.